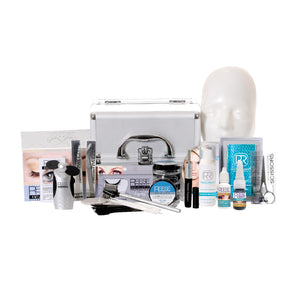 Deluxe Eyelash Extend Kit
Reese Robert has created the perfect kit for all beauty professionals. The kit is equipped with enough supplies to services 300 clients - be a part of this fast-growing highly lucrative business of eyelash extensions.
Kit Includes:
Medical Grade Adhesive
Adhesive Remover
6 lengths of J-Curl Eyelash Extensions with over 2,000 lashes per jar (7mm, 8mm, 10mm, 11mm, 12mm, and 14mm)
2 lengths of C-Curl FATLash Extensions with over 2,000 lashes per jar (10mm and 12mm)
1.75oz. Foaming Prep Wash
Straight Stainless Steel Tweezers
Curved Stainless Steel Tweezers
Marble Stone
Deluxe Metal Lash Comb and Brush Duo
100 Micro-Fine Brushes
50 Disposable Mascara Brushes
6 Pairs of Eye Gel Patches
Stainless Steel Beauty Scissors
Surgical Tape
Note: Professional Use Only
Reese Robert Black EyeLash Extension Adhesive may only be applied by licensed, certified professionals.
WARNING: Cancer and Reproductive Harm –
www.P65Warnings.ca.gov